Volkswagen College Graduate Program Qualifications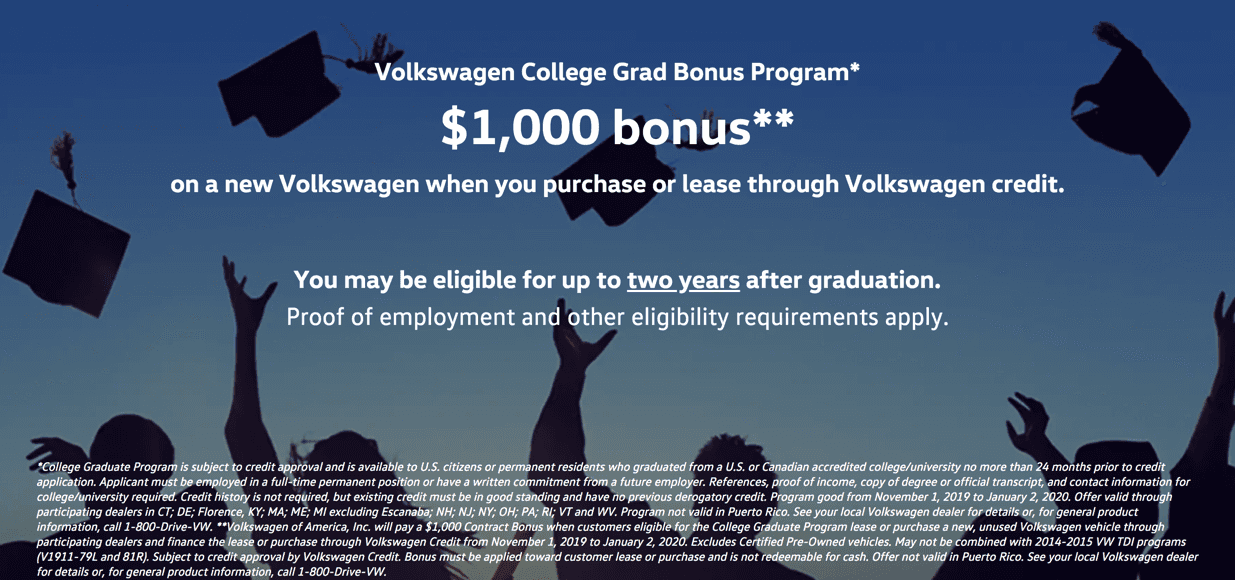 What is even better is that the Volkswagen College Graduate Program qualifications are more lax than some of the others out there. All you need is proof of a degree and proof of employment and you can be on the road in no time at all. Allow us to break down how everything works. Believe us, it's simple.
In order to qualify, you must have graduated in the last two years, or plan to graduate in the next six months, and as long as you attended an accredited U.S. or Canadian College, you're good to go. To make sure that you have a steady income and will be able to make the payments, the only other stipulation is that you must have a full-time job or have written commitment from a future employer.
If you meet those two basic guidelines, you qualify. The next question on your mind, of course, is what do you qualify for? The answer to that question is just as simple. If you qualify and buy or lease a new Volkswagen through Volkswagen Credit, Volkswagen will make your first payment up to $1,000. Plus, if you go down the leasing route, you don't have to worry about making any security deposit at all.
Seeing as you spent the last few years focusing on studies, rather than building a credit line, you can take advantage of the graduate program even if you have no credit. There aren't many programs out there that don't require a credit history, which can really benefit you. On top of all of that, NO CO-SIGNER. You can show up at the dealership and take care of everything yourself.
If you are interested in taking advantage of the Volkswagen College Graduate Program, we suggest that you get in touch with us here at Commonwealth Volkswagen We can fill you in on everything that you will need to bring in to make the process as smooth as possible. Again, the qualifications are not strict at all, so getting that first monthly payment covered does not take much. As always, if you have any questions for us, don't hesitate to contact us. We are here for you, after all.